Washroom Facilities
Our experience team have a lot of experience of fitting washrooms and toilet blocks for all manner of companies, organisations and firms. We fit the entire range of  Tenon commercial washrooms. We choose Tenon because they have  a quality range of toilet cubicle systems suited for any budget and environment including shops, retail, resturants, schools and factories to name but a few. Below is a list of some of the most popular styles of washrooms we fit:
Tenon Modular Washroom Range
The Tenon modular range offers luxurious and contemporary styling which is highly suited for hotel, office and restaurant applications. It offers a high class and distinctive appearance due to its stylish profile and wood grain finish panels and doors.  As part of the premium range it is suitable for a wide range of commercial and industrial projects and any dry area application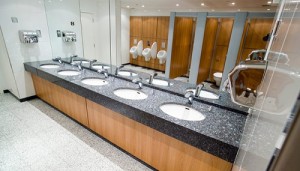 Tenon Ultimate – Quality & Style
As the name suggests the ultimate range offers the best in quality design and finish. Perfect for businesses wanting to make a subtle statement!
Real wood veneers
Stainless steel
Top washroom designs using high quality laminates and melamine.
Tenon Premiere Toilet Cubicle Systems
This range is designed to handle abuse in wet or humid environments. It can offer the perfect solution where long life and ease of maintenance are the primary requirements
Hard wearing
Easy to maintain
Attractive design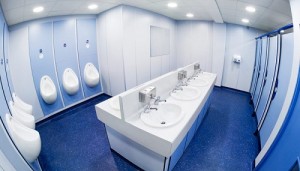 Tenon Pace
Pace is a marriage of functionality with style. With its stylish and modern finish the pace range offers a high quality finish and performance along with excellent value for money
Full length door and wall channels
Concealed cut edges
Strength and durability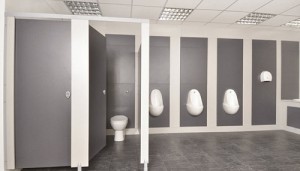 Toodle Loos – The first chice for kids.  Nurseries & Schools
As the name suggests Toodle Loos are washroom and toilet block cubicles specifically designed for children available in a range of attractive colour finishes.
Bright colours
Fun styling
Reassuring privacy
Non finger trap hinges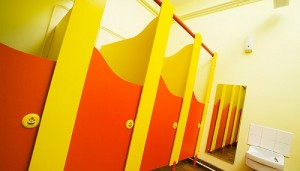 Tenon Budget
The Tenon Budget range is an excellent solution for cost conscious projects,  With its classic clean line styling and use of quality materials this range offers a stylish, strong and hygienic washroom solution yet is cost effective.
Quality materials.
Kit form 'packs' and standard components allow costs to be minimised