Desk Practicality and Versatility: From classic office desk furniture to modern bench systems
We can supply a wide range of office desks to the South Wales area and beyond. These range from executive desks, height settable or adjustable or bench desk systems for offices. Businesses big and small can benefit from the great prices we can offer on practical office desk solutions.
Modern open plan offices like call centres have created a need for modular desks with hub and pod like configuration. It's situations like small IT businesses where bench desk systems can often be used to accommodate computer equipment and cabling.
[caption id="attachment_1004" align="alignleft" width="280"]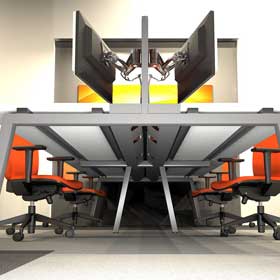 Office bench desking system - a very modern solution[/caption] Cable management - we offer a number of desks that feature wire management. Feeding all the wires through a leg can keep the office space tidy.
Ideal for
IT Companies
Call Centres
Modern Offices
Insurance and Financial firms
Recruitment companies
We are a South Wales based company typically supplying
Cardiff
Newport
Cwmbran
Pontypool
Chepstow and Magor