Operable walls, also known as moveable walls, folding partitions, sliding, folding doors.
A smart way to get more from your office space and meeting rooms
Today with the cost and availability of space at a premium there is an increasing demand to make your space work harder for you.  In large areas space can often be wasted and not used to its full capacity.  Operable walls are the ideal solution for use in these large areas when the space is used for a wide range of activities. Room sizes can be changed in minutes, controlling sound in between different areas and creating the most efficient use of floor space.
Moveable walls make large spaces more productive
The movable wall system was designed to temporarily divide up large areas of space with a solid safe and well sound insulated wall. They can flexibly divide an area according to the business needs.  Operable walls can be a very efficient option for a variety of building applications and can create new possibilities to any space.
Operable walls are ideal for use in function suites, leisure facilities, exhibition centres as well as schools and education centres where flexibility and performance are important.  Operable wall systems or moveable walls are available in just about any finish, enabling it to blend into any environment
Typical Operable Wall Systems
Some of the typical operable wall systems include the following:
Observa Glazed Panels Single Or Double Glazed Which Can Be Manifested or blinds added.

Silenta Plain Panels individual hung from a top track

Compacta Veneered Panels Which Can Fit Into A More Traditional Environment Or Boardroom Setup

Concertina Systems Which Fold Back Into A Smaller Footprint

Systems With Integral Mounted Doors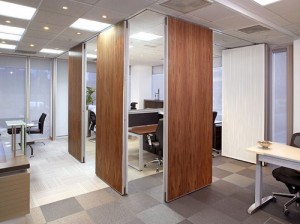 Benefits of installing a movable wall:
Single Handed Operation

Operable acoustic walls have great acoustic qualities (From 35db To 53db Sound Reduction)

Operable wall dividers offers a flexibility in usage of space for a company

Top Track Installation With Unbroken Floor Surface

Foldaway room dividers – folds away into a corner or into a cavity wall for minimal visibility

Operable walls with doors can be made to look like permanent partitioned walls

Relocatable Should Your Requirements Change In The Future